Learn more about memberships & hours:
Welcome to the Didsbsury Municipal Library Brochure
Library Membership & Fees
In an effort to ensure barrier-free access, the Library does not charge for Library memberships or overdue fines. The Didsbury Municipal Library Board feels that communities prosper and thrive when everyone has access to lifelong learning opportunities and materials.
Printing / Photocopying
Laminating
Scan to PDF


Single-Sided
Double-Sided
Card size
$1.00
No charge
8.5 x 11" Black and White

$0.25 / page
$0.35 / sheet
Letter size
$2.00
8.5 x 11" Colour
$0.50 / page
$0.75 / sheet
Legal size
$3.00
Ask us about pricing for other sizes!




3D Printing
The Library offers 3D printing services! Please see our 3D Printing page for more details.
Public WiFi
The Library is superpowered by Alberta Supernet. Use it on our public access computers or your own device.
Alberta Wide Borrowing (ME Libraries)
Library members can register with non-Parkland public libraries across the province to easily borrow physical items using their Library card. Borrowed materials can be returned to any public Library, too. All this for free!
Interlibrary Loans
Borrow print and audio books, movies, and even journal and newspaper articles from libraries across the province. Request online using your Library card number and PIN or ask Library staff to find/request items for you.
Borrow Books by Mail
Did you know we have a direct mail service? If you live remotely, are homebound, or have mobility issues you can request Library materials be delivered to your mailbox by Canada Post.
Outreach & Homebound Delivery
If you are unable to visit the Library yourself, Library staff volunteers will deliver materials to your care facility.
Alternate Formats for Print Disabilities
Albertans unable to use conventional print materials due to a print disability (visual, physical, or cognitive) have a number of options to access materials in alternate formats. Our Library can provide access to large print books, audio books on discs or in digital format (direct to device or computer), braille books, described video, and equipment (i.e. DAISY readers).
Exam Invigilation (Proctoring)
Ideal for distance learners or anyone who needs to write regular certification exams. Book a time with staff prior to your exam to ensure we can accommodate you. There may be a small charge for scanning, mailing, courier and printing.
Campus Alberta Central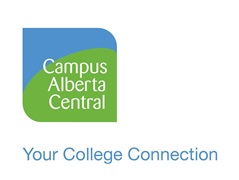 We partner with Campus Alberta Central (CAC) in a joint venture between Olds College and Red Deer Polytechnic that provides post-secondary educational opportunities to communities throughout the central Alberta region.

Visit the Campus Alberta Central website for more information.