Additional Items Available for Borrowing
The following equipment may be borrowed by patrons in good standing with the Library.
Board Game Collection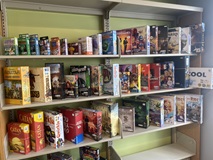 We have an ever-growing collection of board games for all ages and interests. Check them out with your Library card.
For more information on specific games or to place a hold, click here.
NexSource Passes
Week to Wellness passes to the NexSource Centre are available for a 1 week loan for Families, Seniors, Adults, Students, Children and Infants. You may ask for one of these passes in person at the circulation desk at Sylvan Lake Municipal Library. You will require a valid library membership. Passes may be signed out once per quarter, ask staff for details.
View the passes here. Click on the arrow next to the age range you require to place a hold. Feel free to call the Library for assistance at 403-887-2130.
Telescope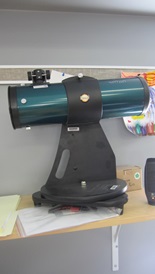 The Orion StarBlast is a point-and-view telescope that swivels smoothly on its sturdy, low-profile base. No complicated setup is required. In fact, it comes pre-assembled and ready for action right out of the box! Just carry it outdoors by its built-in handle, place it on the ground or on a picnic bench, and let the fun begin! Inside the StarBlast's 18"-long steel tube are real, quality telescope optics, including a 114mm (4.5") parabolic mirror.
For more information or to place a hold, click here.
Shifu Orboot Children's Globe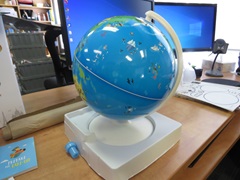 A globe without borders or names. Learn about maps and lots more with the app. Categories in the app include: cultures, monuments, inventions, animals, maps and weather for various countries throughout the world.
Note: Tablet or phone with the Orboot app downloaded. App compatible with both android and iOS. Compatibility: iPad 3rd gen & above; iPad Air all models; iPad pro all models; iPad mini 2 & above; iPhone 6 & above; Android 3GB RAM & above. Amazon devices (kindles) currently not supported.
For more information or to place a hold, click here.
Illuminated Smart World Interactive Globe for Kids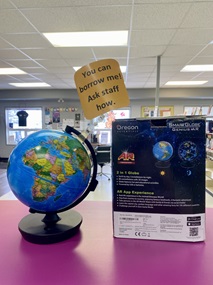 Combines a world map and constellations in one globe. In the daytime you can explore the well-printed world globe, oceans, continents, cities, lakes and rivers. At night, press a button to light up the built-in LED bulb and enjoy the sight of 88 constellations. Augmented reality allows for many fun and educational activities.
Note: Tablet or phone with the app installed to access augmented reality.
For more information or to place a hold, click here.
U-Walk Pedometers
UWALK is focused on empowering people to be active through walking. Walk to decrease tension, improve your mood, keep you energized and boost your self-confidence. The library provides several pedometers that you can borrow and use in your own challenges or to join in with challenges around the province. Visit their website at https://uwalk.ca.
For more information or to place a hold, click here.
Kill A Watt Power Monitor
Electricity bills are rising. Now you can cut down on costs and find out what appliances are actually worth keeping plugged in. Simply connect these appliances to the Kill A Watt®, and it will assess how efficient they really are. Large LCD display will count consumption by the Kilowatt-hour, same as your local utility. You can calculate your electrical expenses by the day, week, month, even an entire year. Also check the quality of your power by monitoring Voltage, Line Frequency, and Power Factor. Now you´ll know if it is time for a new refrigerator or if that old air conditioner is still saving you money.Borrow the monitor and measure the quality and quantity of electricity that everyday household appliances use.
Here is a short video on how to use the Fortis Power Monitor.
For more information or to place a hold, click here.
Daisy Book Reader
DAISY (Digital Accessible Information System) Book Readers play audio formats for the visually impaired, including DAISY books from the CNIB (Canadian National Institute for the Blind) as well as commercial music CDs and CD audiobooks.
For more information or to place a hold, click here.
More information is available from the Centre for Equitable Library Access and National Network for Equitable Library Service.
Radon Screening Kits
In partnership with the Alberta Lung Association (with support from Health Canada), Parkland Regional Library is proud to launch Radon Screening Kits as an addition to other materials patrons can borrow.
For more information or to place a hold click here