Read Local at Carstairs Public Library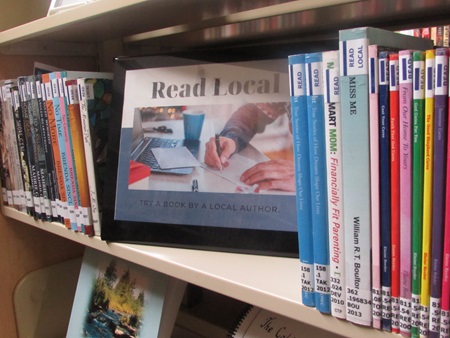 Carstairs Public Library prides itself on being a community hub for programs and collections. As such, we are proud to launch our Read Local Authors collection. This collection will help local authors reach an audience, and help the community find materials that have been created by and about people from the Carstairs area.
How can I find the Read Local Authors Collection?
Books by Local Authors will be identified with a Read Local spine label.
What criteria is used to select books?
In order to be considered for the collection, works must be in physical format and meet the following criteria:
Authors must be local (currently residing within the Parkland Regional Library System service area) and/or the books must be set locally, in Carstairs or the Mountain View County region.
Adult, young adult, and children's materials will be considered.
Works must be properly bound to accommodate spine labels (spiral bound items, stapled, three ring binding or similarly bound items will not be accepted).
Works must have been published within two years of being donated to the library.
Works must have a unique ISBN number. How to get an ISBN.
Books must be donated to the library by the author (one copy maximum).
How can I donate my book?
If your work fits the listed criteria please fill in the Read Local Authors Submission Guide and submit it to the library. We will be in touch with the next steps shortly after.
Will all books be added?
Selection of submitted books will be based on our Collection Development policy and the criteria for the Read Local Authors collection.
How long are books kept for?
This depends. The collection will be maintained as per the library's collection and weeding standards. Books may be removed periodically from the collection based on use or damage.
Can I sell my books at the library?
We will not be selling books at the library.